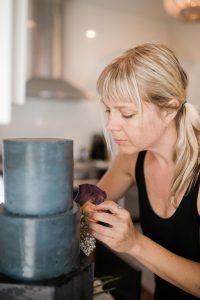 Ask any of my family members, and they'll tell you that when I was younger, I didn't even know how to cook rice! Acting was my passion, so after high school, I moved to New York City to attend acting school. During this time, I worked in several restaurants, which hold a special place in my heart and which made me realize that I loved meeting people and working with food. Eventually my passion for cooking outgrew my passion for acting, and I decided to go back to my home state of California for culinary school.
Becoming a cake artist was never something I would have imagined, even a few years ago. I began my culinary career as a chef, doing caterings and working in every aspect of a restaurant except as a pastry chef. It wasn't until I had children that I began to regularly bake cakes for family and friends' birthdays. This sparked a passion. I began to realize that creating cakes not only satisfied the chef in me, but it was a creative outlet — something that easily falls by the wayside when you're raising a family. My very favorite part of creating a cake is taking a client's ideas and transforming them into a work of art. I look forward to learning about my clients' dreams of a perfect cake, then brainstorming ways to turn their ideas into reality.
When I'm not baking cakes, I'm creating and experimenting with new savory dishes in my kitchen, supporting other local small businesses, or having fun with my family.
Something else about me: Cakewerk isn't just a random name, but a throwback to my German heritage. In German, a "werk" is a place where something is created, and for me, it's cakes! I'm also a German citizen and love immersing myself in the culture. You'll find me front and center on the dance floor when it comes to Oktoberfest time!